Giclée printer and pigment ink set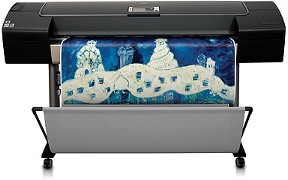 HP Designjet Z3200 Photo Printer
This printer with HP Vivera pigment inks and the first ever embedded spectrophotometer delivers exquisite quality and breakthrough color accuracy across a wide variety of papers and cloth. We can create beautiful black-and-white prints with smooth transitions with the HP Quad-Black ink set, with rich, dark blacks on matte and glossy papers.
Digital printing offers top image quality because there is far more control of tonal adjustments. Dust spots and defects can be completely removed. We offer affordable prints to those who cannot afford the high printer and ink costs or do not desire to edit digital images with Photoshop.
Archival inks and papers
Prints from
MyPhotoShades.com use
Prints by MyPhotoShades.com are long-lasting museum-grade prints on cloth media which offer the ultimate in color fidelity, sharpness, and tonal range. Unlike consumer dye-based inkjet prints and conventional silver-halide prints, these prints on canvas and fine art paper, without glass cover, are rated at 200 or more years of display life under standard, fully illuminated Gallery light conditions (Wilhelm Imaging Research). This color durability is also better than that of dye transfer and Ilfochrome® prints, which previously set the stability standards for color photographic prints. Also, unlike dye-based inks, Vivera pigment-based ink has the advantage of high resistance to water.